Friday, June 11, 2004
Dixie's BBQ
Randy brought Jon and I to
Dixie's BBQ
. At first, we didn't think it was a special place as it was located near a rundown 'rooftop factory'. But the BBQ chicken and ribs were delicious. The exciting moment was the owner, Gene Porter, came with the chilli, known as 'The Man', and just gave us a tiny bit of his hot stuff onto our food.
Man, it was hot. You won't know it was hot until the burning sensation hit you suddenly. And the chilli lingers in your mouth for more than 10 minutes. That was fun! We didn't bring our digital camera, but we will show you the photos when we next visit the place again.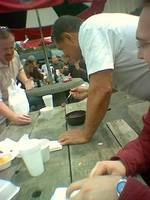 However, here's a photo of
Gene
distributing The Man!
posted by sharon at 2:06 PM |
Permalink
|